Considering one tomb that's here, it seems appropriate now that Graceland Cemetery is a pleasant walk from Wrigley Field. The father of the National League is one of the figures from the world of sports who have their last time outs here, as well as two of boxing's best-known names.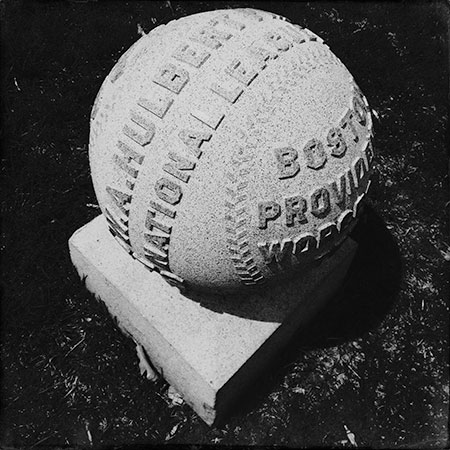 William Hulbert, 1832 – 1882, has a most appropriate memorial – a big, carved baseball. It marks the resting place of the man who founded the National League of Professional Baseball Clubs. Hulbert, a big fan of the game, became a stockholder in the Chicago White Stockings in 1870 and its president in 1875. The following year, he organized the National League with the 8 teams whose names are on the stone baseball. The White Stockings won the league's first championship, and their descendants, the Cubs, play in Wrigley Field. Through an oversight, Hulbert wasn't enshrined in Baseball's Hall of Fame until 1995.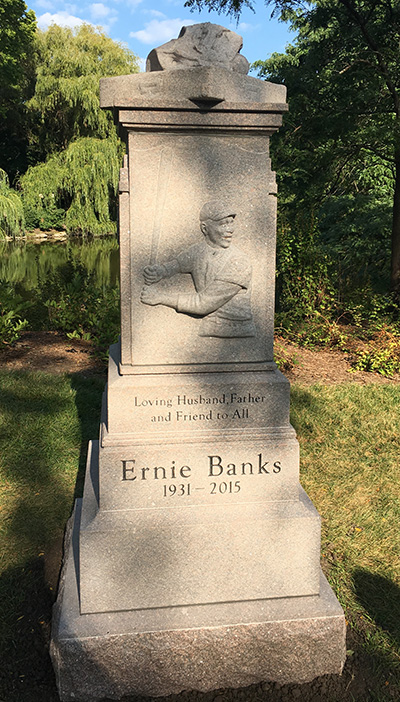 Ernie "Mr. Cub" Banks, 1931 – 2015, Hall of Famer and prominent professional Major League baseball player Ernie Banks, or more notably referred to as "Mr. Cub", played for the Chicago Cubs from 1953 to 1971. Ernie Banks was the Cubs' first African-American player and one of the first Negro league players to join the MLB without first playing in the minor leagues. He is regarded as one of the greatest Cubs players of all time. In 2013, Ernie was awarded the Presidential Medal of Freedom for his contribution to sports.
Robert Fitzsimmons, 1863 – 1917, a native of Cornwall, moved to New Zealand as a child, and representing that island nation, became boxing's first three-division world champion – in the Middleweight, Light-Heavyweight and Heavyweight divisions, but not in that order. The Veterans Boxing Association of Illinois and other boxing fans replaced his original, misspelled headstone in 1973.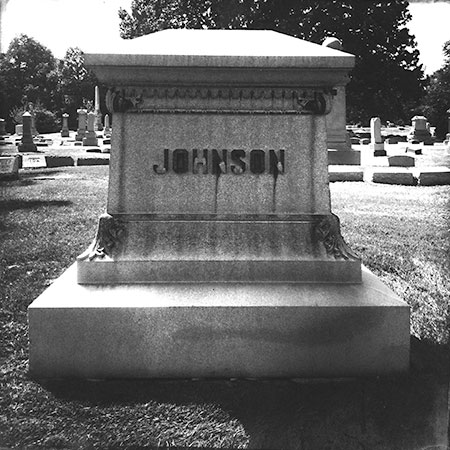 Jack Johnson, 1878 – 1946, knocked out Tommy Burns in Australia in 1908 and became the first black boxer to win the World Heavyweight championship. But other than a large stone with his last name on it, his Graceland grave is unmarked. That has caused some problems for fans who came looking to pay their respects after watching Ken Burns' 2005 film "Unforgivable Blackness: The Rise and Fall of Jack Johnson" on public television. According to the family, plans are being made for a new memorial.