The graves of many who are a part of Chicago's history can be found at Graceland. The famous - and infamous - politicians, civic leaders and even America's most famous private detective and the first female detective.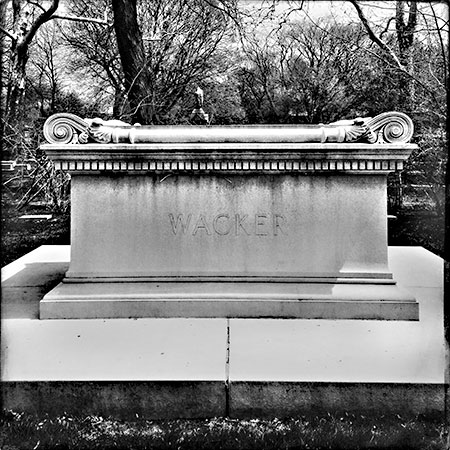 Charles Wacker, 1856 – 1929, is the man for whom Wacker Drive is named, thanks to his position as chairman of the Chicago Plan Commission, which gained public acceptance of Daniel Burnham's Chicago Plan of 1909.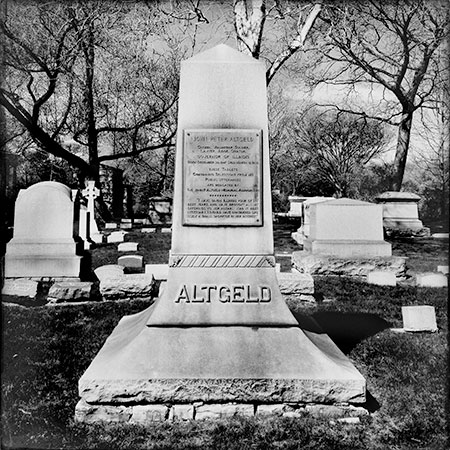 John Peter Altgeld, 1847 – 1902, was a lawyer, judge, author of a book on prison reform and governor of Illinois from 1893 to 1897. But he's most famous – or infamous – for two decisions – his 1893 pardon for three imprisoned Haymarket Riot anarchists and his protest against sending Federal troops to quell the Pullman strike in 1894.
Joseph Medill, 1823 – 1899, and his newspaper, the Chicago Tribune, were staunchly conservative, Republican, anti-slavery and anti-labor union. After the Chicago Fire, he was elected Mayor on the "fireproof" ticket, established the Chicago Library and closed the saloons on Sunday. That last act was enough to get him to resign before his term was up and go to Europe for a rest. The law was repealed. He returned in 1874 and took full control of the Tribune.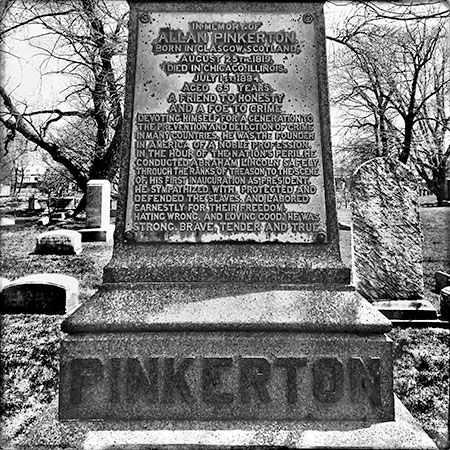 Alan Pinkerton, 1819 – 1884, came to America from Scotland. Working as a cooper in Ohio, he discovered the hideout of a gang of counterfeiters, helped nab the gang, and became a deputy sheriff. His reputation spread, he became Cook County Sheriff, then Chicago's first detective. When he went private, his trademark was the unblinking eye. He was also an ardent abolitionist, and part of the Underground Railroad.
A memorial stone for Timothy Webster (buried in Onarga, Illinois) is next to Kate Warn who is buried near Pinkerton, their employer. Kate, the nation's first female private eye, and Timothy helped Pinkerton escort Abraham Lincoln to his inauguration. Webster, in Pinkerton's secret service, was hanged by the Confederacy as a spy during the Civil War.
John Jones, 1816 – 1879, was the first black man to hold elective office in Chicago. Born in North Carolina of a free woman and a German named Bromfield, his mother apprenticed him to a tailor. He built a successful business as a tailor in Chicago, and because of the city's restrictive laws, he taught himself to read and write, aided fugitive slaves and worked to change the law regarding blacks. He served two terms as a county commissioner after the Fire.
Fred Busse, 1886 – 1914, is one of dozens of politicians entombed at Graceland. After a term as Illinois State Treasurer from 1903 to 1905, he became the 32nd mayor of the Chicago, serving from 1907 to 1911. Some claim he served himself most of all, allowing for widespread corruption and organized crime during his mayoralty.
Carter Harrison Sr., 1825 – 1893, came north from Kentucky because of his disdain for slavery. A lawyer, he made money in real estate, and was first elected mayor of Chicago in 1879. Calling Chicago "a free town," he allowed brothels and gambling in one section of the city, and encouraged ethnic neighborhood saloons.
Popular until the Haymarket Riot, he was voted out of office, but elected to a non-consecutive fifth term in time for the Columbian Exposition, and was assassinated just before it concluded. Tens of thousands followed his casket to Graceland Cemetery and 500,000 other Chicagoans lined the streets to watch. He bought the Chicago Times in 1891.
Carter Harrison, Jr. 1860 – 1953, like his father, was elected mayor of Chicago five times. He served from 1897 to 1905, and again from 1911 to 1915. The 30th mayor, he was the first one to be born in the city. Although similar to his father in not legislating morality, he was more of a reformer, which helped him earn the support of the middle class. But there is no report of the same size crowd behind his last ride to Graceland.
Dr. Daniel Hale Williams, 1856 – 1931, was an African-American surgeon who performed one of the first open heart surgeries, repairing a knife wound in a pericardium with sutures. The patient lived another 50 years. Williams graduated from the Chicago Medical College in 1883.
Unable to practice in Chicago's segregated hospitals, he opened the country's first integrated hospital in 1891. He was the first black man to serve on the Illinois State Board of Health and as chief surgeon at Washington's Freedmen's Hospital. The only black founding member of the American College of Surgeons, and a founder in 1895 of the National Medical Association (the medical society founded for black doctors), he also served as an attending physician at Cook County Hospital.