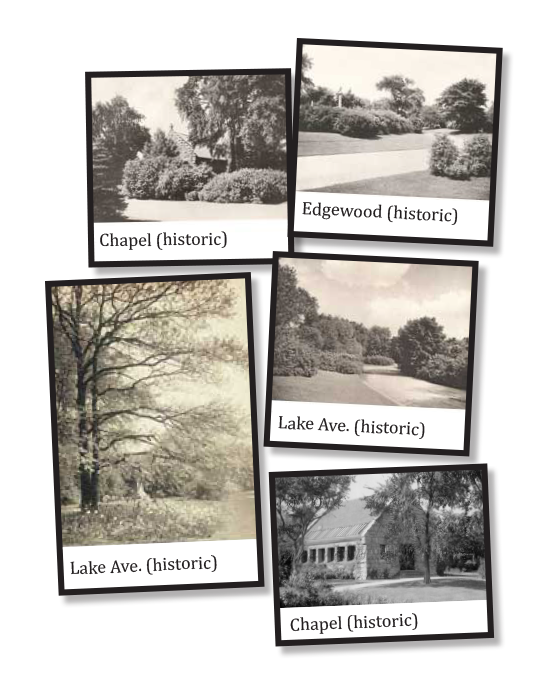 A private cemetery since its beginning, Graceland was established in 1860 by Thomas Bryan, a lawyer with a successful Chicago practice. He purchased its original 80 acres and received a perpetual charter from Illinois in 1861, and soon hired prominent landscape architect H.W.S. Cleveland to plan its park-like ambiance.
With Bryan as president of the cemetery company, many prominent Chicagoans joined the board of managers, including the city's first mayor, real estate entrepreneur William Ogden. Many other wealthy Chicagoans became members and purchased large family lots and "landscape rooms." Still an active cemetery, even today Graceland can accommodate a few more Chicago families who want to join this prominent pantheon.
Originally, Graceland's southern boundary – now Irving Park Road – was two miles outside Chicago's city limits, in the town of Lake View. After some negotiation with the town's residents, Graceland expanded eastward and northwest to encompass its present size of 119 acres.
Long famous as the "Cemetery of Architects," Graceland Cemetery even owes its design and exceptional natural beauty to two 19th century landscape architects.
It began with a plan by landscape architect Cleveland, which, in the 1870's, saw the cemetery's paths and plots uniformly sodded, and the fenced and curbed plot boundaries eliminated. William Le Baron Jenney, a renowned architect but less well known for his landscape work, contributed significantly with his design and engineering input. This helped created the Victorian park style atmosphere that soon was enhanced by Ossian Simonds. When Graceland grew to its present size, Simonds innovative design used native plants to create the cemetery's pastoral landscape, which today makes it one of the most beautiful places in Chicago for residents and tourists to visit.
Today, Graceland is owned and operated by the Trustees of the Graceland Cemetery Improvement Fund, a not-for-profit trust. Revenues provide for maintenance of the grounds and the monuments and tombs therein.
The Cemetery is open to all to visit, and its architectural masterpieces, local history and beauty are the magnets that attract people to Graceland. While architects from the traditional to the father of skyscrapers and modern masters take center stage, you'll find that Graceland also holds fascinating stories of private eyes and public figures, baseball and boxing greats, merchants and inventors and other unique individuals.